Violet and Victor Write
the Best-Ever Bookworm Book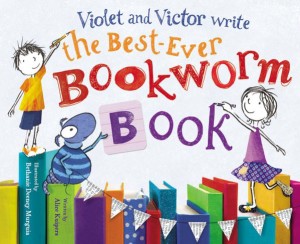 Violet and Victor write the Best-Ever Bookworm Book is the story of Violet and Victor Small; twins on a mission: to write the best book in the whole, entire world–together! Victor is reluctant, but Violet is determined, and soon the ideas can't come quickly enough.
They begin to write a story about a hungry Bookworm who is eating all the books in the library. Thanks to Victor's brilliant ideas, Violet is able to save the day (and the library).
This delightful story-within-a-story is filled with good-natured sibling rivalry, and focuses on the spirit of cooperation, the satisfaction of a job well-done, and the magic of storytelling.
---
ORDER NOW: Chapters Indigo | Amazon | Kobo | Kindle | iBookstore | Google Play
---
Creating the Illustrations
---
---
Press Reviews
"Victor is content to play with his pet-worm collection, but his twin sister, Violet, wants to create a book with her brother's help, because he has "good ideas." She insists on his assistance, and he begins dictating a mystery about a library book with missing pages, while Violet edits and writes it all down. Fascinating illustrations are fun to study as they include a diverse mix of media, such as graphite-pencil sketches, origami, maps, library cards, and photocopied pages from old books. In one picture, a bookworm—the star of their story—is carried home in a date-due pocket labeled 592.64, the Dewey decimal number for segmented worms. Violet's voice is shown in purple, and Victor's in orange, while the tale Violet writes down appears handwritten in pencil on lined lavender- or salmon-colored paper, depending on who is narrating. The great blend of text and illustrations combine for an enjoyable story about writing a story. Share this and Marie-Louise Gay's Any Questions? (2014) with children interested in writing."
– Booklist: January 23, 2015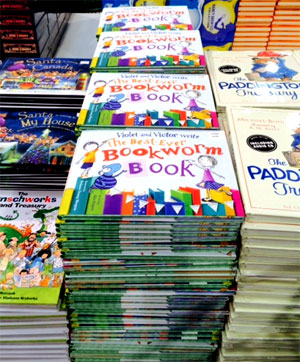 "Twins collaborate in writing an original story about a "book-eating monster."When bossy Violet Small decides to" write the best-ever book in the whole entire world," she cajoles her twin brother, Victor, into helping. Far more interested in his pet worms, Victor suggests their hero should be a strong, brave worm, which Violet promptly changes to a strong, brave girl named Violet. Overhearing the school librarian complain that pages are missing from a book, Victor creates a gripping plot starring their heroine, who "creeps by comic books," "slips through stories," "eyeballs encyclopedias," "peers in pages" and "flies through fairy tales" in her quest to save the library from a terrible book-eating monster. The twins' editorializing is tracked from page to page, with Violet speaking in purple type and Victor in orange, while their versions of the story appear in childlike print in lavender and orange notebook-paper text boxes. Murguia comically presents the twins in graphite pencil sketches and, in "homage to the printed page," combines Photoshopped multimedia images from books, maps, library cards and origami sculptures to create fantastical backgrounds for their fictional hunt for the not-so-terrible book-eating monster. Clever fare for aspiring bookworms (especially siblings)."
– Kirkus
"Violet Small is determined to write the most amazing book ever. She requests the help of her twin, and though Victor would rather mess around with his pet worms, her fervor soon pulls him into the project. As the siblings collaborate on The Best-Ever Bookworm Book (Little, Brown, 2014; K-Gr 4), ideas are shared, a plot percolates, and an enchanting tale evolves. Alice Kuipers hands the narrative reins over to her protagonists, who convey their first-person accounts in color-coded text—violet for Violet of course, and peach for Victor (the children wear corresponding T-shirts). The unfolding tale is presented on loose-leaf backgrounds of violet or peach, cleverly indicating which young author contributed each segment. The book makes a beguiling read-aloud, but youngsters will also want to take a close look at Bethanie Deeney Murguia's inventive artwork. Sketched in graphite pencil, the winsome round-faced siblings take center stage in the realistic scenes; whimsical collages assembled from embossed book covers, antique prints and maps, and well-worn library pockets and check-out cards depict fantastical in-story moments. This charming exploration of the creative process will inspire young writers."
– School Library Journal
"YA author Alice Kuipers makes her picture-book debut with this charming story of twins who set out to write the best book ever. And what better plot for these aspiring authors than to have their heroine save the place where all great books reside—the library—from a vicious book-eating monster? Artist Bethanie Deeney Murguia (Zoe Gets Ready) uses photoshop to combine her illustrations and real-world elements such as pages from books and library cards. The resulting pages are sure to captivate both parents and their budding bookworms."
– Bookish.com
---