Me (and) Me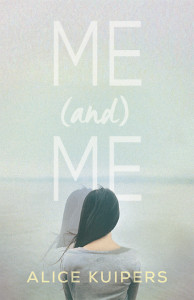 It's Lark's seventeenth birthday, and although she's hated to be reminded of the day ever since her mom's death three years ago, it's off to a great start. Lark has written a killer song to perform with her band, the weather is stunning and she's got a date with gorgeous Alec. The two take a canoe out on the lake, and everything is perfect—until Lark hears the screams. Annabelle, a little girl she used to babysit, is drowning in the nearby reeds while Annabelle's mom tries desperately to reach her. Lark and Alec are closer, and they both dive in. But Alec hits his head on a rock in the water and begins to flail.
Alec and Annabelle are drowning. And Lark can save only one of them.
Lark chooses, and in that moment her world splits into two distinct lives. She must live with the consequences of both choices. As Lark finds herself going down more than one path, she has to decide: Which life is the right one?
Alice Kuipers, the award-winning author of 40 Things I Want to Tell You and Life on the Refrigerator Door, is an expert chronicler of the teenage heart, and she takes her work to new heights here. A riveting, high-concept novel with heart, Me and Me is about what it feels like to be torn in pieces, and about finally finding out who you really are.
---
ORDER NOW:
Chapters Indigo | Amazon | McNally Robinson
---
BOOK TRAILER
---
INTERVIEWS
CBC Saskatoon: audio interview

CTV Saskatoon News at Noon: video interview – Click Here
---
REVIEWS
Regret, indecision explored in Saskatoon author's upcoming novel
Kuipers is launching her book at McNally Robinson in Saskatoon at 7 p.m. CST Monday
CBC News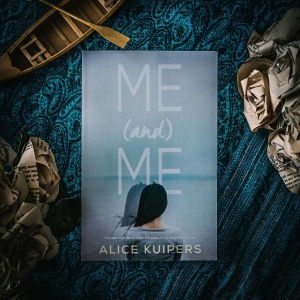 The central character in Alice Kuipers' new book finds herself in an unenviable situation: two lives hang in the balance and she can only save one.
In Me (and) Me, 17-year-old Lark must choose between saving the life of a little girl or a handsome, young man she was on a date with.
Unable to make such a difficult, her life splits in two and she starts to see what would happen if she chose the man, or the girl.
A paralyzing choice
Kuipers said the story explores the tendency to wonder "what if."
"I think that feeling of wondering what life would be like if we'd made a different choice is there with all of us and what interested me was how to make that come alive in a vivid way on the page," Kuipers told CBC Radio's Saskatchewan Weekend on Sunday.
"So Lark has to make a really difficult choice and, like a lot of us, she just becomes paralyzed in the face of the options before her."
Sask. author's novella views Vimy Ridge era through the eyes of his grandfather
The possible consequences of Lark's decisions are revealed to her through glitches and messages in her phone.
Stuck and confused, Lark begins to think she is losing her mind.
'Jump in, both feet'
Kuipers said her personal feeling about these types of decisions is that it's best to make a choice and commit to it fully.
"That is what Lark really has to discover, this endless dithering between 'I can't make a choice so I'm just not going to [is unhelpful],'" said Kuipers.
"So I guess I say jump in, both feet."
Kuipers said she believes young people are sophisticated readers living in a complicated world that seems darker than when she was a teenager.
She added that stories were a way to navigate that world by understanding the experiences of others.
"I think having tools to understand our world comes from experiencing other people's stories," said Kuipers.
"We can't make this world the best it can be until we understand what it's like to be someone else."
Me (and) Me will be released on April 11. Kuipers is launching her book at McNally Robinson in Saskatoon at 7 p.m. CST on Monday.
---
"Showering her intense text with astounding lyrics, Alice Kuipers brings both Larks together to juxtapose the parallel lives they lead after the near drowning at the lake."
– CanLit for LittleCanadaians
"A mesmerizing and mysterious ride through parallel worlds. Me and Me is absolutely irresistible."
– Teresa Toten
"Haunting and mysterious, this is a powerful book about love, life and choices. Both page-turning and thought-provoking, Kuipers deftly tells a lyrical tale that'll keep you questioning reality right up to the very end."
– Arthur Slade
"Another intriguing, high-stakes tale from Alice Kuipers, consummate risk-taker, inimitable story-maker."
– Hadley Dyer, author of Johnny Kellock Died Today
"Alice Kuipers has a way of drawing me under, drowning me in so many layers of emotion, that I hold my breath while I read Me and Me. I loved this intense and wonderful book! My hero in the book, the rad, long-boarding, parkour ingénue/traceuse, and band girl, seventeen year-old Lark Hardy, is much cooler than I was at seventeen (and maybe even now), and Lark is graciously trying to navigate not falling to pieces despite unimaginable circumstances. Lark is a gifted musician and has a songwriting mind that helps weave back together her shattered heart, as she must navigate loss and trauma, all while trying to remain supportive for her devoted dad, for her band, for her beloved mom, and for the passionate Alec, who may actually turn out to be the architect of her undoing. Caught in what feels like a parallel life, Lark experiences the inevitable, and finds her true self somewhere in between."
– Bif Naked, musician