40 Things I Want To Tell You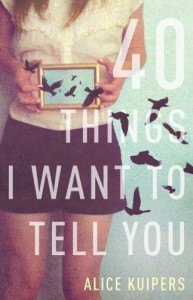 The main character of 40 Things I Want To Tell You had been floating around in my head for a while. I'd tried her in a few different stories, one about a murder, one about an angel, and one about a treasure hunt, but none of the tales seemed to be working out. So, I stopped and thought deeply about who Amy was; I tried to be honest about her story. Amy, nicknamed Bird, is very controlled and organized. She doesn't like it when things get out of hand and is always telling other people how to live. Once I'd figured that out about her, I felt the story coming together. I knew it would have to revolve around a list, and I knew she'd be so busy telling other people what to do that she let her own life tumble into chaos. It was very fun finding the Top Tips and fitting them into the story, but my favourite part of the writing process was seeing Amy change and grow into a much more nuanced character once I'd found the right story to tell.
---
BUY NOW:
Chapters Indigo | Amazon | Buy Local | Kindle | iBookstore | Google Play
---
From My Publisher
Top Tip: Some secrets are too hard to keep

Amy (a.k.a. Bird) seems to have the perfect life: loving parents, a hot boyfriend, the best friend ever. She even writes an online advice column, full of Top Tips, to help other teens take control of their lives. But after a new guy shows up at school, Bird can't seem to follow her own wisdom.

Pete is the consummate bad boy. He's everything Bird is not: wild, unambitious and more than a little dangerous. Although she knows Pete's trouble, Bird can't stay away. And the more drawn she is to him, the more cracks are revealed in her relationship with Griffin, her doting boyfriend. All it takes is one mistake, one momentary loss of control, for her entire future to be blown away….
---
---
PRESS REVIEWS
"Bird's website ties the whole story together as she dispenses advice and top tips, such as 'Secrets breed lies' and 'Be honest with your best friend,' even as she herself has trouble taking her own advice. These teens live in the present day, texting each other from across the room. The dialogue is lively, often funny and totally up to date, moving the action along well and revealing character. The intended readership will sympathize with Bird whose actions and life will provoke much discussion and empathy."
— Canadian Review of Materials

"This is a hard-hitting novel for older teens by the talented Saskatoon novelist… Kuipers' writing is crisp and effective."
— Winnipeg Free Press

"In her third YA novel, Alice Kuipers proves she owns the market on introspective, conflicted teen-girl protagonists…In a market where juicy melodrama is all too easy to find, Kuipers' subtle, self-searching prose is unique and refreshing."
— Quill & Quire

"40 Things I Want To Tell You by Alice Kuipers was absolutely incredible! It's one contemporary novel you do not want to miss on, and one that I strongly urge all my readers to check out immediately!"
— A Cupcake and a Latte

"When I read a book that touches me, really touches me, I always finish it, close the cover, lay my hand over it, and just sit. Sometimes I just re-immerse myself in the story, sometimes I weep, sometimes I wonder how the characters managed, sometimes I ponder the title and the cover. With 40 Things I Want To Tell You by Alice Kuipers, I did it all…. Alice Kuipers' skill at weaving an emotionally engaging story with remarkable characters, likeable or not, like those in our own lives, will disarm you effortlessly until you realize you have been invariably touched forever."
— Canlit for LittleCanadians

"40 Things I Want To Tell You is at its heart a love story and one between the most unexpected characters and possibilities. Readers who enjoy realistic fiction as well as those who enjoy Kuipers' older novels will enjoy this book."
— Resource Links

"Kuipers' wonderful writing style had me hooked from page one. … What I didn't realize at that time, though, is just how meaningful this book would prove to be. What I initially assumed to be just a complicated love story turned out to be so much more than just that…. A beautiful, heartbreaking tale of one girl's journey to self-discovery."
– Bookish