DUMMY PICTURE BOOK INSTRUCTIONS
1-Take 8 sheets of paper. I like to use coloured paper, but any will do.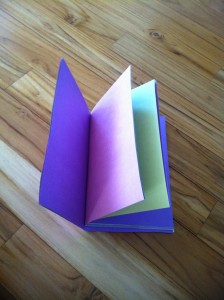 2- Fold them in half, like so.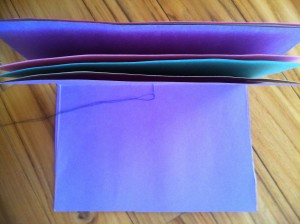 3- Using a needle and thread, sew through the middle point of the spine of the book. With tougher paper, you'll need stronger thread and a sharper needle.  You can get these from art supply stores.  I don't always stitch the dummy book, as if I fold it well, the pages stay in place.
4- Finish up the stitching.  This is how mine looks.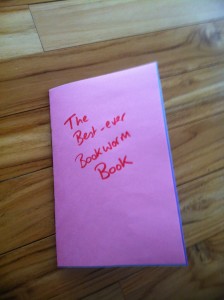 5- Write your title across the front.  Remember not to use the inside of this title page to start your story. Start instead on page 3, or even 4 if you prefer.  Now, write you children's book in your dummy book and see if it helps you edit it and improve the text.  Keep in mind that this isn't something you'll send to the publisher, but it is a great way for you to get a feel for your text on the page.  No need to illustrate, although you can if you want!